Solution
| | | |
| --- | --- | --- |
| Battery | Battery charger | Charging time |
| NB-13L | CB-2LH/CB-2LHE | Approx. 2 hr. 10 min. |
The charging lamp turns orange while the battery pack is charging. When charging is finished, the lamp turns green.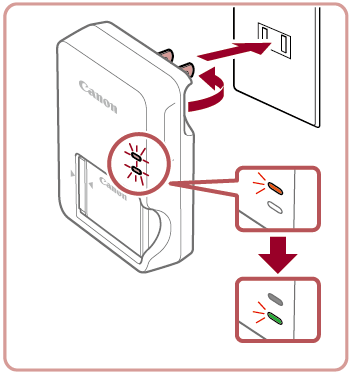 Caution
To protect the battery pack and keep it in optimal condition, do not charge it continuously for more than 24 hours.
Use of genuine Canon accessories is recommended. This product is designed to achieve excellent performance when used with genuine Canon accessories. Canon shall not be liable for any damage to this product and/or accidents such as fire, etc., caused by the malfunction of non-genuine Canon accessories (e.g., a leakage and / or explosion of a battery pack). Please note that any repairs your Canon product may require as a result of such malfunction are not covered under warranty and will incur a fee.
Caution
Charged battery packs gradually lose their charge, even when they are not used. Charge the battery pack on (or immediately before) the day of use.
The charger can be used in areas with 100 – 240 V AC power (50/60 Hz). For power outlets in a different format, use a commercially available adapter for the plug. Never use an electrical transformer designed for traveling, which may damage the battery pack.