Solution
Charging times are approximate and vary according to charging conditions and initial charge of the battery pack.
Charging conditions
Battery pack
BP-820
BP-828
Using the camcorder and supplied CA-570 compact power adpater
210 min.
300 min.
Using the CG-800 Battery Charger
190 min.
260 min.
Caution
Checking the Remaining Battery Charge
With the camcorder turned off, press the BATT. INFO button to display for about 5 seconds a screen showing the approximate battery charge level and an estimate of the remaining recording time. Note that if the battery charge is too low, the battery information screen may not appear.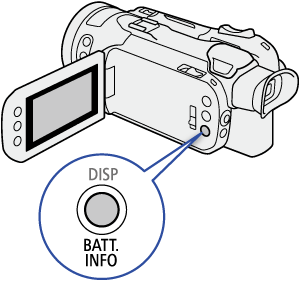 Caution
Do not connect to the compact power adapter any product that is not expressly recommended for use with this camcorder.
Turn off the camcorder before connecting or disconnecting the AC adapter. After you turn off the camcorder, important data is updated on the SD card. Be sure to wait until the green POWER/CHG indicator goes out.
When using the compact power adapter, do not fix it permanently to one place as this may cause a malfunction.
To prevent equipment breakdowns and excessive heating, do not connect the supplied compact power adapter to voltage converters for overseas travels or special power sources such as those on aircraft and ships, DC-AC inverters, etc.
[Use of genuine Canon accessories is recommended.]
This product is designed to achieve excellent performance when used with genuine Canon accessories. Canon shall not be liable for any damage to this product and/or accidents such as fire, etc., caused by the malfunction of non-genuine Canon accessories (e.g., a leakage and/or explosion of a battery pack). Please note that this warranty does not apply to repairs arising out of the malfunction of non-genuine Canon accessories, although you may request such repairs on a chargeable basis.
Caution
We recommend charging the battery pack in temperatures between 10 °C and 30 °C (50 °F and 86 °F). If either the ambient temperature or the battery pack's temperature is outside the range of approx. 0 °C to 40 °C (32 °F to 104 °F), charging will not start.
When using the CG-800 Battery Charger, an ambient temperature between 10 °C and 30 °C (50 °F and 86 °F) is recommended. For safety reasons, charging outside of the recommended temperature range may result in considerably longer charging times. Charging will not start if either the battery or ambient temperature is outside of an approximate 5 °C to 35 °C (41 °F to 95 °F) range.
The battery pack will be charged only when the camcorder is off.
If the power supply was disconnected while charging a battery pack, make sure the POWER/CHG indicator has gone out before restoring the power supply.
If remaining battery time is an issue, you can power the camcorder using the AC adapter so the battery pack will not be consumed.
Charged battery packs continue to discharge naturally. Therefore, charge them on the day of use, or the day before, to ensure a full charge.
We recommend that you prepare battery packs to last 2 to 3 times longer than you think you might need.
When you use battery packs bearing the Intelligent System mark, the camcorder will communicate with the battery and display the remaining usage time (accurate to 1 minute). You can only use and charge these battery packs with camcorders and chargers compatible with Intelligent System.