Solution
The Video Snapshot function enables you to shoot short scenes that last for several seconds. The shooting time can be selected from 2, 4, and 8 seconds.
You can enjoy viewing movies as you play back Video Snapshot scenes along with music. Also, by changing the music, you can give your scenes an entirely new feel when you play back.
Video Snapshot scenes are indicated in the index screen with a [
] mark.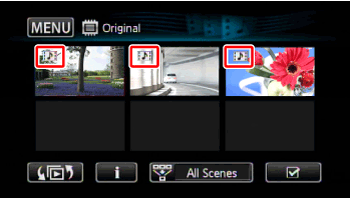 The Video Snapshot can be played back combined with background music in the camcorder, however, the movie is recorded with the original sound when shot.
The following method can be used to save the movie and the background music together.
Saving movies in high-definition
Install the supplied software, PIXELA ImageMixer 3 SE Ver.6, included in the Discs 1 and 2 of the PIXELA Application discs supplied with the camcorder. If you click [Video & music file combination] on the launcher screen, a movie registered in the playlist and a selected music file can be saved as one file to the video library.
When creating discs, please save to Blu-ray discs or DVD discs*.
*Movies recorded in MXP mode (24 Mbps) will be automatically converted to 18 Mbps.
Saving movies in standard-definition(

/

only)
When down-converting from the index screen of Video Snapshot, the movie and selected music will be saved as one file. Also, standard-definition DVDs can be created using the optional DW-100 DVD Burner. For details, please refer to the related information.
For details on how to save and edit data on a PC, please refer to the instruction manual for PIXELA ImageMixer 3 SE Ver. 6.